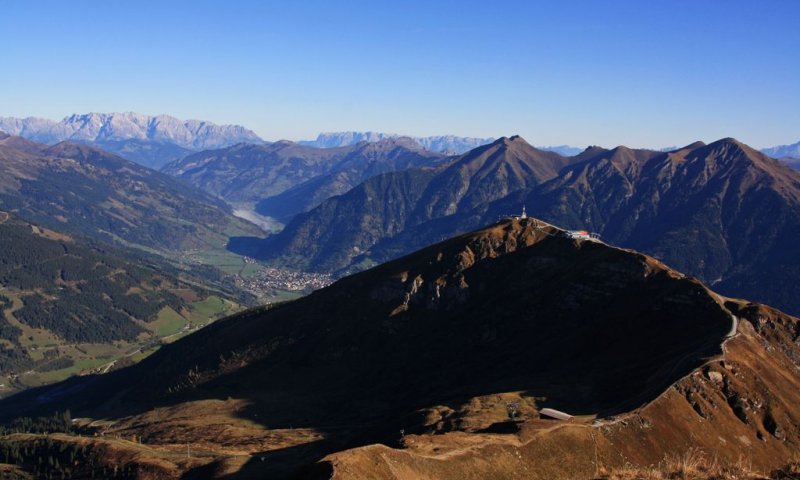 The Zitterauer Tisch (2463 m) is an ideal destination to start a mountain holiday with a short tour to "acclimate" and gain a comprehensive overview: Here the Gastein mountains lie spread out infront of you, which makes it easy to consider new objectives and to look forward to more experiences in the mountains.
After some starting help from the Stubnerkogelbahn, you hike along the footpath past the "Glocknerblick" viewing platform and on the "Felsenweg" to the Zitterauerscharte. A trail, exposed in parts, with a short rocky section secured by cables, leads via the northern ridgeline to the Tischkogel (2409 m).
The easier variant branches off to the left at the Zitterauerscharte (Jungerscharte). Following the Zitterauermulde, we come to the eastern ridge, which we ascend to the Tischkogel. From here, almost flat along the ridgeline to the Zitterauer Tisch, with fantastic views of the Hocharn and Großglockner.Those who went up the north ridge, now can also stay on a slightly easier path on the east ridge and then hike back to the top station along the Zitterauer Mulde.
Tip:
On the east ridge descend further to the Zitterauer Alm, and from there to the middel station or further across the Böcksteiner Höhenweg to Böckstein (Gastein hiking book tour 9).
Great hike from Stubnerkogel past Zitterauer Tisch and Miesbichlscharte, past Bockhartsee into Naßfeld (Gastein hiking book tour 10).
Infos:
Starting point:
Top of Stubnerkogel

Total walking time:
about 2 hours
Lenght: about 4,5 km
Highest point: 2463 m

Ascent: 300 Hm
Descent: 300 Hm

Difficulty: medium

Walking points: 8