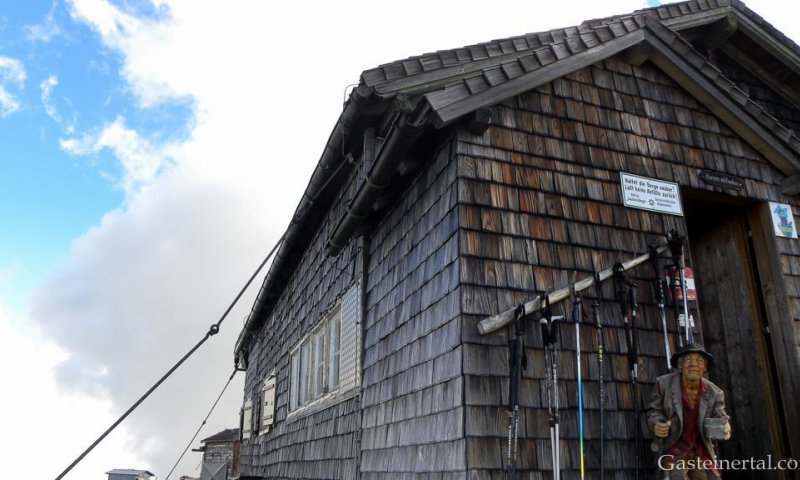 A view such as the one from the Gamskarkogel (2467m), which is still relatively easy to reach, you will not find often: The view includes not only the entire chain of the Hohe Tauern, but also the Northern Limestone Alps from Wilder Kaiser to the Dachstein. No wonder that already under the Archduke Johann in 1829, a shelter hut was built on the summit: the first hut purely for Mountaineers in the Austrian Alps! The section OeAV Bad Gastein took over the hut and expanded it in 1933 - the historic shelter was retained as a kitchen area. 2013, the cottage has been restored - but without changing the traditional character.
From the Grüner Baum (1066m), steeply uphill across a meadow, after which the path soon becomes more pleasant and the view of the Tischler Group more magical. Additional motivation comes from the dwarfs on the trail's edge with their encouraging sayings. Sticking to the sunny southern slopes, we climb to the Poserhöhe, one of the most beautiful lookout points above Bad Gastein, some exposed areas are secured.
From the Poserhöhe, we hike briefly across alpine pastures, then flat through fairy-tale mountain forest with gnarled, lichen-draped trees. Only when we cross the tree line do we encounter a significant gain up to the Tofernscharte (2091 m), a crossing point to Grossarl. Now through hairpin bends up the summit slope to the highest point, incl. the Badgasteiner Hütte. The view is splendid, as the sun rises and sets and an overnight stay is guaranteed to be an unforgettable mountain experience.
Tip: Hike from Gamskarkogel to Frauenkogel, descend across the Rastötzenalm to Bad Hofgastein (Hiking Guide Gastein, tour 27).