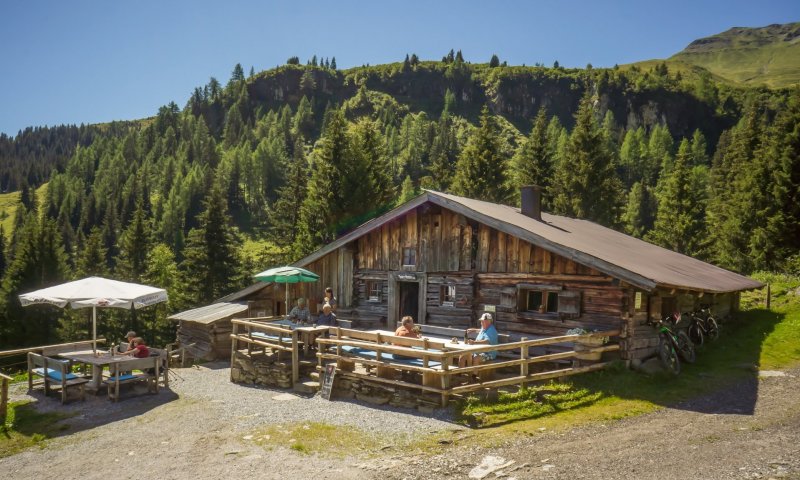 The Thaler-Mahder alpine hut in Bad Hofgastein is located at about 1630m below the Gadaunerer Hochalmen in Bad Hofgastein. The fresh products such as milk, cheese, curd cheese, farmhouse bread, bacon or sausages come from our own production, of course there is also homemade schnapps. If there are fresh delicacies such as farmer's donuts, then these are always worth a temptation!
There is a small playground for the children.
The Thaler-Mahder hut can be reached via several variants, e.g. in approx. 1.5 hours starting from the "Lackenbauer" (in front of the Angertal ski center) along a partly quite steep forest path above the Angertal via Nösslach to the alp. This variant is also for Mountain bikers a rather short, but sometimes quite tough matter.
Another, much longer option is via the Angertal, past the Waldgasthof along the forest path to the Gadaunerer Hochalmen, from here descent and towards to direction home, the Thaler-Mahder hut is perfect for a stop. Here you should expect at least 4 hours of walking.
You can also get to this mountain pasture via the Schlossalm: e.g. with the Schlossalm lift to the Kleine Scharte mountain station, past the reservoir towards the Kaserebenbahn mountain station and from here via the Kreilingersteig to the Rockfeldalm (1820) and descent to the Thaler-Mahder hut.
© Photos: Gasteinertal.com